ASTM D1056
The ASTM D1056 specification covers flexible cellular rubber products known as sponge rubber and expanded rubber. It is categorized by types, classesa, suffixes, and grades:
Types 1 and 2
Classes A, B, C, and D
Grades 0, 1, 2, 3, 4, and 5
The various grades are subjected to test methods that include accelerated aging, compression-deflection, oil-immersion (open-cell sponge), fluid immersion (closed cell), water absorption, density, and low-temperature flex.
The Bellofram Difference: Products That Meet Multiple Specifications (ASTM D1056, BMS, AMS, MIL)
Bellofram Silicone products are specially designed to meet all major specifications, including ASTM D1056, but also Boeing Material Specifications (BMS), Aerospace Material Specification (AMS), and Military Specifications (MIL)
For example, ASTM D1056 2D1 products also meets the standard of BMS 1-23, AMS 3195, and MIL-R-46089 Grade M. Our flame-retardant, medium density, ASTM D1056 2D3 material also meets the flammability requirements of BMS 1-60. ASTM D1056 2D1 matches Grade A BMS, ID Grade C, Firm Grade D, and UL94 V,0.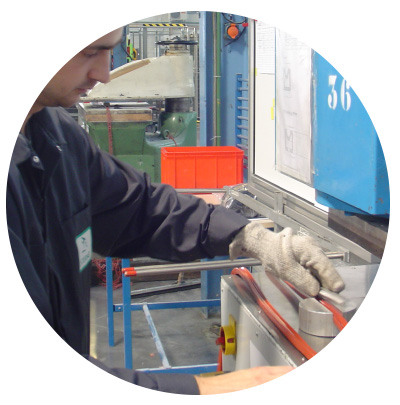 The Bellofram Way:
Everything In-House
All custom compounding is done in-house. We also make all our own tooling. The result is ultimate flexibility for customers when it comes to material composition and order minimums. Because we are not beholden to outside suppliers, we can cost-effectively produce prototypes and smaller runs that others forego.
We make the lightest high-consistency closed cell silicone rubber sheeting material on the market. It contains truly closed cells, as determined by the stringent ASTM D1056 water absorption under vacuum method, eliminating wicking. The formulation and construction allows for continuous operation of materials over a wide temperature range of -85° to +400°F, with outstanding recovery after compression. The sheets skived from buns can be supplied from 0.125" to 2.00" thickness, or buns can be skived into sheets using a customer's own equipment.
There are three available ASTM-D-1056 hardness versions of the standard sheet, including one with the necessary enhanced fire-retardant additives to meet UL94 V-0 specifications, and a second version with fluorosilicone sponge properties, meeting the requirements of AMS 3323. With these and other available options, BELLOFOAM™ silicone foam rubber sponge sheets cover a wide range of demanding physical, temperature, and chemical environments.