5104-NSF - Certified Closed Cell Silicone Sponge Extruded, Compression Deflection, 2-5
DESCRIPTION
Bellofram Silicones 5104-NSF are closed cell silicone sponge materials produced with FDA approved ingredients. They are available in a wide range of standard profiles to choose from, or we can design a custom profile according to customer specification.
Contact us at siliconesRFQ@bellofram.com to request a free product sample or quotation.
FEATURES
Handles temperature extremes
Excellent gasket material
Low closure force
Very low compression set
UV / Ozone resistant
MATERIAL SPECIFICATIONS
ASTM D-1056
ABO 130-121-B
MIL-STD-670 TE3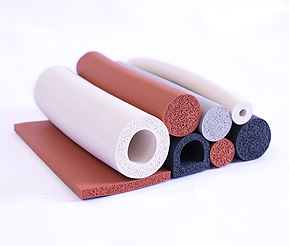 TYPICAL PHYSICAL PROPERITIES
| PROPERTY | TEST METHOD | SPECIFICATION |
| --- | --- | --- |
| 25% Compression Deflection | ASTM D-1056 | 0 to 5 psi |
| 50% Compression Set (22 Hours @ +212°F/+100°C) | ASTM D-1056 | 6% |
| Density (max.) | ASTM D-1056 | 12 lbs/ft 3 |
| Water Absorption | ASTM D-1056 | 10% max |
| Flammability | FMVSS 302 | PASS |
| Temperature Resistance (Continuous)(°F) | | -85° to +400°F |
Data noted above is based on laboratory tests and should be used as a reference only. Further information and additional specifications are available upon request. Tests, claims, representations, and descriptions regarding flammability are based on standard laboratory tests, and they may not be reliable for determining, evaluating, predicting, or describing the flammability or burning characteristics under actual fire conditions, whenever used alone or in combination with other products. Accordingly, each potential user should make an individual determination whether the flammability or burning characteristics of the product are suitable for the purpose intended by the user.